Ladies and gentlemen, if you feel free at 20 February (next wednesday), please dun miss it, DaXiang 08 (DX08) or formally translated as Chinese Art of Speaking's Night or in BM, Malam Seni Pertuturan Cina. (Actually exact translation is UM crosstalk competition or 马大大型相声观摩赛). Crosstalk or Xiangsheng 相声 is one of chinese speaking art which simply explained as telling jokes and spreading laughter to audience. Crosstalk is also a traditional Chinese comedic performance in the form of a dialogue or, much less often, a monologue or, even less frequently, a multi-player talk show. The language, rich in puns and allusions, is used in a rapid, bantering style. Xiangsheng is one of China's foremost performing arts.
Long story short, welcome you guys come and attend this fascinating show, come and support me lah... this is my first time, doing a project director of a campus activity.... very extremely busy and exhausted...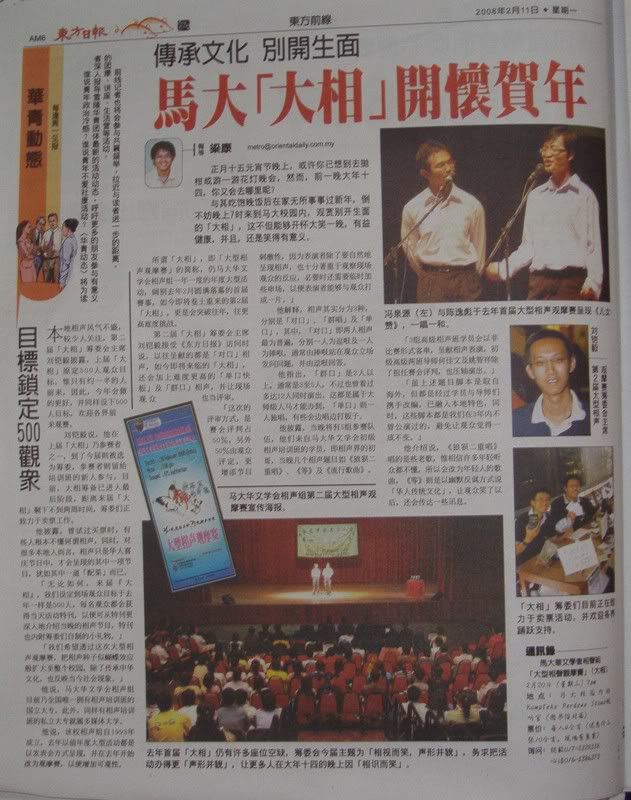 Headline news in Oriental Daily....
If you still at KL that day, please come lah.... go there and laugh.... surely can make you more healthier... hahahaha